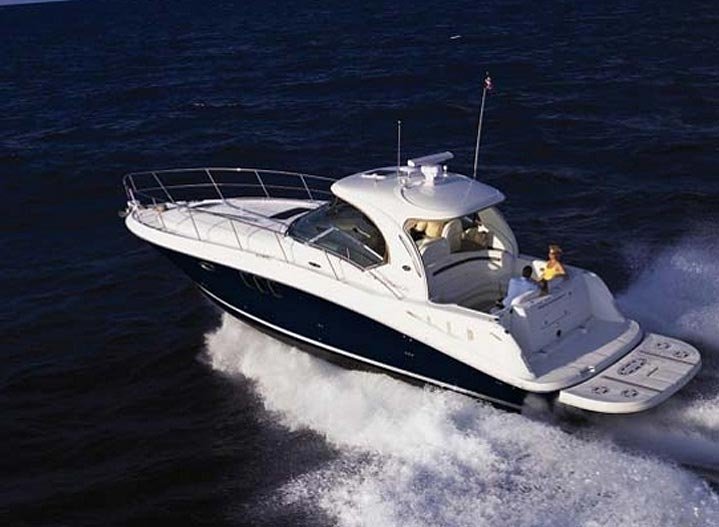 The perfect Luxury Power Boat for couples, small families, or friends looking to do multiple islands hopping in style
This beautiful modern 40ft Searay is a Luxury Power Boat that offers you a cruise in style and comfort while at speed. During your Day Trip around the many islands off Phuket, you will visit locals islands with clear blue waters and sandy beaches ideal for snorkeling and swimming, walk among nature and wildlife, and enjoy local traditional meals in local restaurants.  Alternatively, visit some of the more famous sightseeing areas in Phi Phi or Phang Nga Bay or Krabi and enjoy a gorgeous lunch prepared on board by our Hostess and Chef Khun Annie. Our Captain has been cruising these waters on this yacht for many years and knows all the secret hidden spots to avoid the crowds. Your Host Khun Dennis is very knowledgeable about the local area, the geographic and local customs, and makes the day out great fun and you will be well looked after.
The Searay is fantastic for smaller groups and for families, with an airconditioned lounge and a double bedroom if anyone needs to rest. The rear of the yacht offers plenty shade and the comfortable seating offers great views and relaxation. On the large foredeck we have beanbags and a lounge area for enjoying the sun while cruising. The swim deck makes for easy access into and out of the water and for your enjoyment when stopped at the beach we have Kayaks, Fishing and Snorkeling equipment and include the towels to make things easy for you!
A choice of destinations await you just choose if you want sightseeing and exploring or snorkeling and beaches and we will do the rest!

Yacht Specifications & Charter Prices
40ft Luxury Power Boat Specifications
| | | | | |
| --- | --- | --- | --- | --- |
| Max Passengers | Day Trip | 10 | Over night | 2 |
| Dimensions (feet) | Length | 40 | Max Width | 12 |
| Cabins | Double/ Twin | 1 | Toilets | 1 |
| Speed in Knots | Max | 30 | Cruising | 24 |
If you would like more information please CONTACT US
40ft Luxury Power Boat Prices (THB)
EXCLUSIVE DIRECT TO OWNER PRICING
Full Day Charters from 9am until 6pm for up to 6 passengers
ZONE 1 - Local Southern Islands
Coral, Koh Bon, Koh Lon, Buddha Island:
Beaches & snorkeling
30,000 THB
ZONE 1A - Local Northern Islands
Nakka, Rang and & Sandbar Island:
Beaches & Swimming
30,000 THB
ZONE 2 - Southern Islands
Maithon:
Dolphins, beaches & snorkeling
43,750 THB
ZONE 2A - Distant Southern Islands
Racha Yai and Noi:
Fishing, great snorkeling & quiet sandy beaches
56,250 THB
ZONE 3 - Distant Southern/ Western
Phi Phi or Krabi Islands:
Enjoy great snorkeling & sightseeing
56,250 THB
ZONE 4 - Northern Islands
Phang Nga Bay and James Bond:
Enjoy caves, hongs & adventure away from the crowds
56,250 THB
SUNSET CRUISE - 4pm until 7pm
Local Islands:
Slowly cruising around the islands & enjoying the Sunset
25,000 THB
ADDITIONAL COSTS
On Board Lunch and selection of alcohol
Traditional Thai foods freshly prepared by our chef
2,000 THB
National Park Fees
200 THB per Child
400 THB per Adult
Additional Passengers
Above 6 per person
1,500 THB
Transportation
Private Mini Van
2,500 THB
Special Requests can be accomodated

Amazing deals for Day Charters here in Phuket
Our amazing new pricing for our 40ft Luxury Power Boat "Playlife" gives you an affordable luxurious option to take your family and friends out on a Private Yacht in style and comfort.
We are offering a choice of destinations for your Private Yacht Charter depending on where and what you want to do:
ZONE 1 - Local Southern Islands offers a great tour of the 5 islands just off the coast of southern Phuket, a short and sheltered journey makes it great for children or non-boating families in calm and safe waters. Getting you out to enjoy the great sandy beaches, warm shallow waters, and enjoy snorkeling and fishing.
ZONE 1A - Local Northern Islands visiting Koh Rang, Koh Pey, and Nakka Islands off the North-Eastern Coast of Phuket give you some lovely sightseeing with lovely shelving beaches ideal for swimming and relaxation. Leaving from Royal Phuket Marina
ZONE 2 - Southern Islands visit either Maithon and Coral Islands offering you the chance to see wild dolphins, enjoy excellent snorkeling and swimming at some lovely beaches.
ZONE 2A - Distant Southern Islands visit Racha Islands where you can enjoy excellent snorkeling, some Fishing with snorkeling and swimming at some lovely beaches.
ZONE 3 - Distant Southern OR Eastern Islands of Phi Phi or Krabi offer the famous beaches, lagoons, sightseeing, snorkeling, and swimming around some of the more popular destinations of Phuket
ZONE 4 - Northern Islands get you exploring the amazing Phang Nga Bay and James Bond Island, exploring the caves and lagoons, the hidden beaches, exploring nature, enjoying wonderful wildlife and amazing scenery completely away from the crowds.
The Charter Includes:
Soft drinks, drinking water
Fresh fruit and snacks
Towels
Snorkeling, fishing, kayaking equipment
The Charter does not include:
Lunch - We can provide a catered lunch and a selection of beers and wine for an additional 2,000 THB or you can choose to eat at a local restaurant at your own cost (depending on the destination) and you can bring your own beer and wine at no charge.
National Park Fees where applicable are 400 THB per Adult and 200 THB per Child and payable on the day of the charter to the Thai Park Rangers
Tips for crew - The crew all work very hard to ensure that you have a great day and that you get the most from your charter. They would really appreciate it if you were to show your appreciation of their hard work at the end of the day.
Air conditioned transportation to and from the resort is 2,500 THB for each 13 seat minivan and can be arranged on request.
We will depart from either the Royal Phuket Marina or from Rawai Pier depending on the destination and charters start at 9am and return for 6pm
All 40ft Power Boat Day Charters are based on 6 passengers and we can take up to a maximum of 10 passengers.
Contact us now to take advantage of these very special offers!!