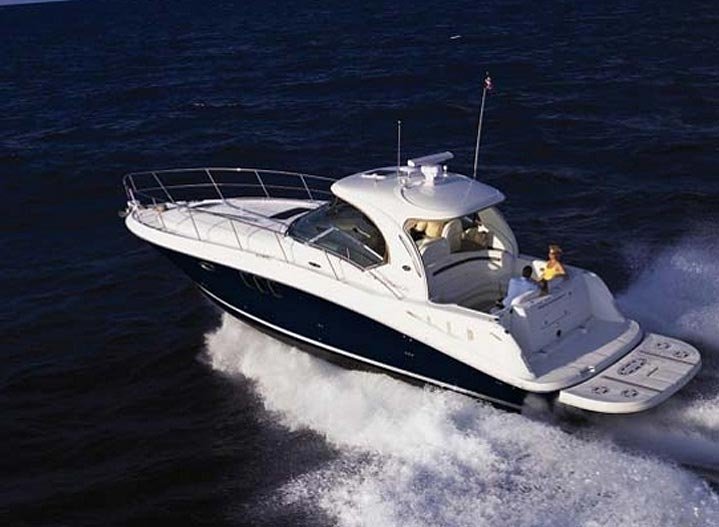 The perfect Luxury Power Boat for couples, small families or friends looking to do multiple island hopping in style
This 40ft Luxury Power Boat offers you the chance to cruise in speed during your Day Trip around a choice of islands, visiting some of the more famous sightseeing areas in either Phi Phi or the Phang Nga Bay and Krabi Island areas. Offering a combination of sightseeing, swimming and exploring, beach time and still getting you away from the crowds!
With a choice of two customised Charter Trips designed to give you time at the famous sights of each area as well as getting you away to your own hidden beaches, you will not be disappointed by this boat and the service it provides.
Choose between the clear blue waters of Phi Phi and its surrounding islands for snorkeling and sightseeing or the Phang Nga Bay/Krabi Day Charters which offer sightseeing, swimming and exploring hidden beaches and caves! This is a great one for the families with children

Yacht Specifications & Charter Prices
40ft Luxury Power Boat Specifications
| | | | | |
| --- | --- | --- | --- | --- |
| Max Passengers | Day Trip | 10 | Over night | 2 |
| Dimensions (feet) | Length | 40 | Max Width | 12 |
| Cabins | Double/ Twin | 1 | Toilets | 1 |
| Speed in Knots | Max | 30 | Cruising | 24 |
If you would like more information please CONTACT US
40ft Luxury Power Boat Prices (THB)
Low Season Specials
SPECIAL OFFER Limited Time Only
Day Charter Island Hopping
20,000 THB
Koh Yao Adventure 3 Hrs
Beaches, island and local lifestyle tour
29,500 THB
Half Day / Sunset 4 Hrs
Local Islands of Koh Rang and Koh Nakka
49,500 THB
Full Day Charters from 9am until 6pm for up to 6 passengers
Phang Nga Bay
Enjoy caves, hongs and adventure away from the crowds
60,500 THB
Phang Nga Bay and Krabi
Enjoy caves, hongs and great snorkeling
71,500 THB
Phi Phi Islands
Enjoy great snorkeling and sightseeing
71,500 THB
2 Day 1 Night Charter
2 person Koh Yao Noi and Island Exploring
107,00 THB
National Park Fees
200 THB per Child
400 THB per Adult
Additional Passengers
Above 6 per person
2,000 THB
Transportation
Private Mini Van
2,500 THB
Special Requests can be accomodated

Special Offers from
25,000 THB Day Charter Limited Time Only
Enjoy a Day Charter with you and the family for up to six people. A choice of destinations are available for you:
Have fun swimming and snorkelling on the beaches of Racha Island
Visit Phi Phi and relax at the lovely beaches and explore the tranquil bays and walk around Phi Phi town
Choose to go exploring the caves and lagoons of Phang Nga Bay and enjoy private beaches
Island hop around the local Southern Islands of Phuket and experience a great sunset from Nai Harn
Look for the Dolphins at Koh Maithon and enjoy snorkelling at Koh Khai
The choice is yours!
Included in the Charter: Soft Drinks and Drinking water, fresh fruit
Not included in the Charter: Alcohol or Lunch - You can either bring your own or we can take you to a local restaurant, Park Fees and transfers.
Contact us now to take advantage of this very special offer which is up to a 75% Saving!!
Koh Yao Adventure
Imagine a Phuket twenty years ago and you will find Koh Yao Yai and Koh Yao Noi just off the East coast of Phuket. Local village life still continues as it did many years ago, local markets with local and home grown produce, deserted beaches and sandbars - recently part of the film "The Mechanic 3" are just some of the locations on offer during this 3 hour charter.
We will take you out from the Royal Phuket Marina and cruise over to Koh Yao and moor up, spend some time visiting the local villages and markets before taking you on a tour of the island in a traditional motorbike and side car - Salang... a great experience and a fun way to see the island. During the time on Koh Yao we will take you out to the gorgeous, coconut covered peninsula that juts out into the channel between Koh Yao Noi and Koh Yao Yai for some beach time and just enjoy the peace and quiet.
Then on the way back to the marina a quick stop off at one of the local islands for another swim and some beach time, before departing the boat where the hotel transfer will be waiting for you. (Lunch not included in this charter)
2 Person Overnight Charter - 2 Day 1 Night Phang Nga Bay and the Island of Koh Yao Noi
A new Charter to this yacht for Low Season for 2 people sharing the Master Cabin. The charter starts from 9am and will return at 6pm the following day
The nearby island of Koh Yao Noi offers a wonderful selection of small deserted beaches, private bays as well as being surrounded by smaller islands you can visit and walk around. We will take you onto the main island to go exploring, then cruise around the bay area into the famous Hongs / Lagoons, walking into the caves and mangroves.
Spend the day enjoying the scenery and Limestone islands in the bay area, visit its many islands and then relax on board as the sunsets, have a freshly prepared meal by our Chef and then drift off to sleep on board.
In the morning wake up to a fresh breakfast, coffee and a quick swim in the tranquil and secluded bay before heading out for more exploration and cruising. Enjoy Kayaking, swimming and the many beaches in the area and then its onto some wonderful sandbar islands for relaxing and lunch before heading back to the marina in the evening.
All 40ft Power Boat Day Charters are inclusive of the following and the pricing is based on 6 passengers up to a maximum of 10:
Soft drinks, drinking water, fresh fruit and snacks during the charter
Snorkeling equipment and towels, 2 sea kayaks
Lunch is provided at one of several hand picked authentic Thai restaurants, we have made a special arrangement with these local restaurants but you can always chose and alternative and pay the extra
24 local beers. Wine, Spirits and Champagne are also available on request at a small surcharge
National Park fees & Hostess and Crew
Not included in the trips:
Tips for crew - The crew all work very hard to ensure that you have a great day and that you get the most from your charter. They would really appreciate it if you were to show your appreciation of their hard work at the end of the day.
Air conditioned transportation to and from the resort is 2,500 THB for each 13 seat minivan and can be arranged on request.