"I am looking to charter a boat in Thailand but have never done this before, where do I start?"
 Contact us at Epic Charters and your adventure in Phuket, Thailand and The Andaman Sea's will have now begun! We will help to plan your holiday adventure directly with you, personalising it to meet your requirements, suggesting destinations and activities and also offering experienced suggestions on various activities in the local areas.
Epic Charters will assist by providing transportation to and from the departure point of the boat from your resort, ensuring a door to door service for your holiday boat charter.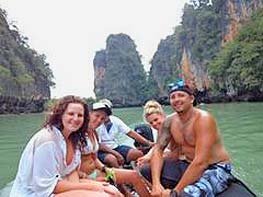 "I dont know what boat to charter or what you have available..."
We have a number of types of boats in our fleet and are constantly updating and expanding our selection to offer you the best choice in quality and service.Currently we have a large selection of :
Sailing Yachts - Several Monohul and Catamaran yachts that are fully crewed and serviced (These yachts are designed for luxurious cruising and in some cases racing! Fully equiped with all modern facilities,  luxuries and essentials)
Motor Boats - Several Multihull Catamarans as well as a selection of Speedboats and Game Fishing Boats all offering a wide range of destinations and watersports activities.
The boat you choose will depend on your budget, how many people you want to join you and where you would like to go - motorboats offer a much wider area of travel, catamarans generally offer more room for larger groups and sailing boats offer the tranquility of motorless travel!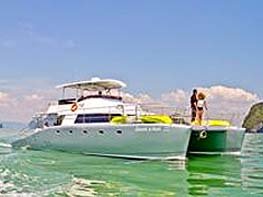 "I am not sure where we should go for our charter, there are so many destinations!"
Epic Charters offers a full range of destinations for all of our Sailing Yachts, Sailing Catamarans, Motorboats, Motor Catamarans and Speedboat Charters around Phuket. From the West Coast beaches, islands and bays of Phuket, Phang Nga Bay, Krabi, Phi Phi Islands, Racha Yai and Racha Noi, Koh Lanta, the Similans and even Burma
Remember when choosing a destination that the type of boat you choose can be a factor - motorboats can get to Phi Phi and back on a Day Trip but yachts cant!
For a more details of where to go and what to see visit our main Destinations Page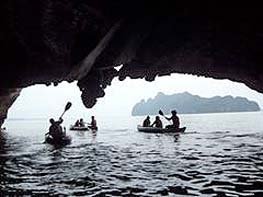 "What is the itinerary and will be included in our boat charter..."
The beauty of all our charter boats is that when you've booked it for the boat is yours for the day, it's up to you as to which direction you chose to go and do! Its fully flexible depending on what you want to do; laze around or go exploring the choice is yours.
Epic Charters will assist by providing transportation to and from the departure point of the boat from your resort, ensuring a door to door service for your holiday boat charter. Upon arrival on your chosen charter boat, you will be introduced to your captain and crew and have the chance to settle in on-board. Once are fully settled in, we will confirm your charter schedule, then all you have to do is to relax and enjoy your charter!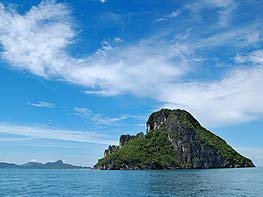 "What catering is available onboard and what if I have some special requirements..."
Dependent on your chosen charter boat option they vary from fresh fruits, snacks, sandwiches through to full a la carte Thai or Western meals - most charter boats offer the option for personalisation of the menu to a degree, as well as catering for specific dietary requirements (i.e. allergies, vegetarian, halal, children's menus, etc)
Example menus are available upon request for the majority of the boats we offer and we can normally fully personalise your menu choice. If its a special occasion and you want Lobsters and Steaks we can do it, if you want to fully experience the Thai lifestyle we can offer you Thai soups, curries and other traditional dishes.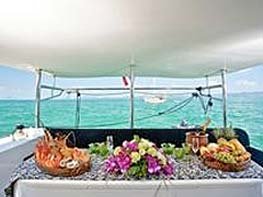 "What activities can I do during my charter..."
Onboard the majority of the boats you will have electronic equipment ranging from I Pod integration, CD and mp3 players, flat screen TV's, DVD players as well as internet access.
Off the boat and in the water most of the charter boats have snorkeling equipment and fishing gear. We even have several boats that offer a kayaks, power snorkeling equipment, PADI diving facilities and even wakeboarding.
Most of our charter boats provide a dingy with an outboard engine for beach access.
Shore life depends on where you choose to anchor - some destinations offer restaurants and bars for entertainment, shopping and sightseeing destinations are also available.
We can also make suggestions and arrangements for you and your guests to join in other activities during your charter experience, including - visiting the many Spa's and Resorts on the Islands of Racha Yai, Phi Phi and the Krabi area for treatments to ensure your complete relaxation.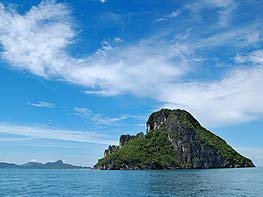 "What should we bring with us, what about our belongings and tipping the crew..."

You will need to bring swimsuits, sunscreen, camera/video (underwater), shoes (even though you won't be wearing them on-board you will need them on shore) and a change of clothes is optional for those on a Day Charter! For those on extended Charters you will need the above and additional sets of clothing and you will add toiletries and any other personal items you wish to have with you.
Please remember that you are going to be living on a boat for possible two to seven days and space can be at a minimum - bringing full suitcases is possible but it is not ideal! If you are planning to sail for more than one day, don't forget to bring your I Pods or MP3 Players to utilise the stereo systems on-board the boats or just some reading material if you want.
Most of the available charter boats either have a safety deposit box onboard or lockable cabins to secure your belongings – however in our seven years of chartering boats we have never had any issues!
We believe that giving a gratuity is a personal choice based on your level of appreciation to the service that was provided to you. However, we recommend that 10-15% is appropriate if your crew made your Epic Charters holiday experience memorable. All tips go straight to the crew of your chosen boat charter and they are gratefully received. If you have a Host and you appreciated their service then they should be tipped separately.